Panasonic SMT Chip Mounter NPM-W2
Features
Higher productivity and quality with printing, placement and inspection process integration
Depending on the PCB you produce, you can select High-speed mode or High-accuracy mode.
For larger boards and larger components
PCBs up to a size of 750 x 550 mm with component range up to L150 x W25 x T30 mm
Higher area productivity through dual lane placement
Depending on the PCB you produce, you can select an optimal placement mode - "Independent" "Alternate" or "Hybrid"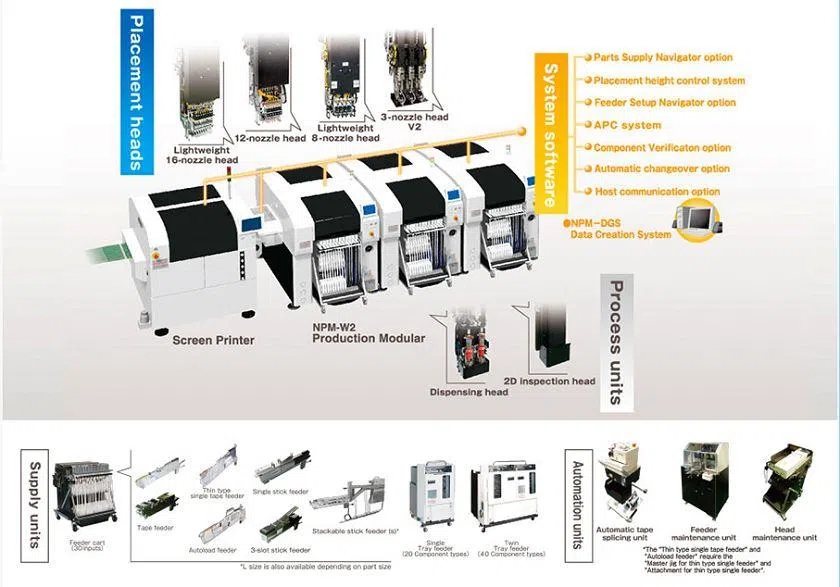 Simultaneous realization of high area productivity and high-accuracy placement
High production mode (High production mode: ON)
Max. speed: 77 000 cph *1 (IPC9850(1608):59 200cph *1 ) / Placement accuracy: ±40 μm
High accuracy mode (High production mode:OFF)
Max. speed: 70 000 cph *1 / Placement accuracy: ±30 μm(Option:±25μm *2)
*1:Tact for 16NH × 2 head
*2:Under conditions specified by PSFS


New placement head

New high-rigidity base
· High rigidity base supporting high-speed / accuracy placement
Multi-recognition camera
· Three recognition functions combined into one camera
· Faster recognition scan including components height detection
· Upgradable from 2D to 3D specifications
Machine Configuration
Rear & Front Feeder Layout
| | |
| --- | --- |
| | 60 different components can be mounted from 16mm tape feeders. |
Single Tray Layout
13 fixed feeder slots are available. PoP tray mounting is possible via a transfer unit.
Twin Tray Layout
While one tray is used for production, the other tray can simultaneously be used to setup the next production in advance.
Multi-functionality
Large Board
Single-lane specifications (Selection spec.)
Large Board up to 750 x 550 mm can be handled
Dual-lane specifications (Selection spec.)
Large boards (750 x 260 mm) can be handled collectively.
Boards (up to a size of 750 x 510 mm) can be handled collectively during single transfer.
Large Components
Compatible to component sizes up to 150 x 25 mm
LED Placement
Brightness Binning
Avoid mixing of brightness and minimizes component and block disposal.
Monitors remaining component count to avoid component exhaust during operation.
*Please ask us for nozzles that support LED components of various shapes
Other functions
· Global bad mark recognition function
Reduces in travel/recognition time to recognize bad marks
· PCB standby between machines (with the extension conveyor attached)
Minimizes the PCB (750 mm) change time
High productivity - Employs dual mounting method
Alternate,Independent & Hybrid Placement
Selectable "Alternate" and "Independent" dual placement method allows you to make good use of each advantage.
Alternate : Front and rear heads execute placement on PCBs in front and rear lanes alternately.
Independent : Front head executes placement on PCB in front lane and rear head execute placement on rear lane.
Independent changeover
In the independent mode, you can conduct a changeover on one lane while production continues on the other lane.You can exchange the feeder cart during the production also with Independent changeover unit (option). It supports automatic support pin replacement (option) and an automatic changeover (option) so that it provides the best changeover for your production type.
PCB exchange time reduction
Two PCBs can be clamped on one stage (PCB length : 350 mm or less).And Higher productivity can be realized by reducing PCB exchange time.
Automatic replacement of support pins (option)
Automate position change of support pins to enable non-stop changeover and help save man-power and operation errors.
Quality improvement
Placement height control function
Based on PCB warpage condition data and thickness data of each of the components to be placed, the control of placement height is optimized to improve mounting quality.
Operating rate improvement
Feeder location free
Within same table, feeders can be set anywhere.
Alternate allocation as well as setting of new feeders for next production can be done while the machine is in operation.
Feeders will require off-line data input by support station (option).
Solder Inspection (SPI) ・Component Inspection (AOI) - Inspection head
Solder Inspection
· Solder appearance inspection
Mounted component Inspection
· Appearance inspection of mounted components
Pre-mounting foreign object*1 inspection
· Pre-mounting foreign object inspection of BGAs
· Foreign object inspection right before sealed case placement
*1: Foreign object is available to chip components.
SPI and AOI automatic switching
· Solder and component inspection is switched automatically according to production data.
Unification of inspection and placement data
· Centrally managed component library or coordinate data does not require two data maintenance of each process.
Automatic link to quality information
· Automatically linked quality information of each process assists your defect cause analysis.
Adhesive Dispensing - Dispensing head
Screw-type discharge mechanism
· Panasonic's NPM has the conventional HDF discharge mechanism, which ensures the high-quality dispensing.
Supports various dot/drawing dispensing patterns
· High accuracy sensor (option) measures local PCB height to calibrate dispensing height, which allows for non-contact dispensing on PCB.
Self-Alignment Adhesive
Our ADE 400D series is a high-temperature curing SMD adhesive with good component self-alignment effect.
This adhesive is also suitable for use in SMT lines to fix bigger components.
After the solder melts, self-alignment and component sinking occurs.
High-quality placement - APC system
Controls variations in PCBs and components, etc. on a line basis to achieve quality production.
APC-FB*1 Feedback to the printing machine
· Based on the analyzed measurement data from solder inspections, it corrects printing positions. (X,Y,θ)
APC-FF*1 Feedforward to the placement machine
· It analyzes solder position measurement data, and corrects component placement positions (X, Y, θ) accordingly.
Chip components (0402C/R ~)
Package component (QFP, BGA, CSP)
APC-MFB2 Feedforward to AOI /Feedback to the placement machine
· Position inspection on APC offset position
· The system analyzes AOI component position measurement data, corrects placement position (X, Y, θ) , and thereby maintains placement accuracy.
Compatible with chip components, lower electrode components and lead components*2
*1 : APC-FB (feedback) /FF (feedforward) : 3D inspection machine of another company can be also connected. (Please ask your local sales representative for details.)
*2 : APC-MFB2 (mounter feedback2) : Applicable component types vary from one AOI vendor to another. (Please ask your local sales representative for details.)
Component Verification option - Off-line setup support station
Prevents setup errors during changeover Provides an increase of production efficiency through easy operation
*Wireless scanners and other accessories to be provided by customer
· Preemptively deters component misplacement
Prevents misplacement by verifying production data with the barcode information on changeover components.
· Automatic setup data synching function
The machine itself does the verification, eliminating the need to select separate setup data.
· Interlock function
Any problems or lapses in verification will stop the machine.
· Navigation function
A navigation function to make the verification process more readily understandable.
With the support stations, offline feeder cart setup is possible even outside of the manufacturing floor.
• Two types of Support Stations are available.
Changeover ability - Automatic changeover option
Supporting changeover (production data and rail width adjustment) can minimize time loss
• PCB ID read-in type
PCB ID read-in function is selectable from among 3 types of external scanner, head camera or planning form
Changeover ability - Feeder setup navigator option
It is a support tool to navigate efficient setup procedure. The tool factors in the amount of time it takes to perform and complete setup operations when estimating the time required for production and providing the operator with setup instructions.
This will visualize and streamline setup operations during setup for a production line.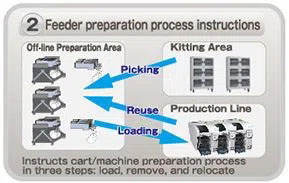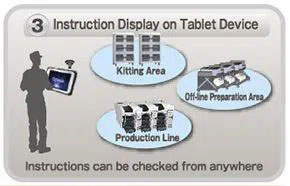 Operating rate improvement - Parts supply navigator option
A component supply support tool that navigates efficient component supply priorities. It considers the time left until component run-out and efficient path of operator movement to send component supply instructions to each operator. This achieves more efficient component supply.
*PanaCIM is required to have operators in charge of supplying components to multiple production lines.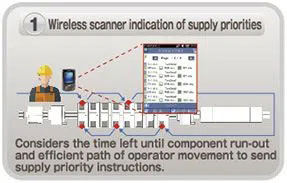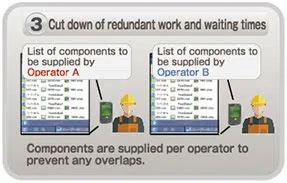 PCB information communication function
Information of mark recognitions done on first NPM machine in line is passed on to downstream NPM machines.
Which can reduce cycle time utilizing the transferred information.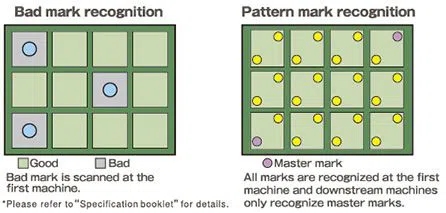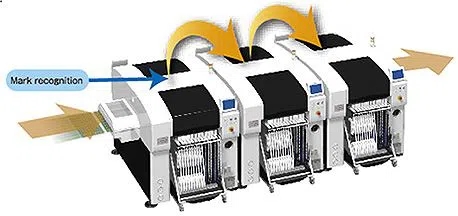 The new NPM-W2 amplifies the original NPM-W capabilities with a 10% throughput boost and 25% more accuracy. It also integrates new innovations like our incomparable Multi Recognition Camera.
Combined, these features extend the component range down to the 03015mm microchip, yet preserve capability up to 120x90mm components up to 40mm tall and nearly 6" long (150mm) connectors.
Board handling has also been improved. Available in either single lane or dual lane, the machine provides the ability to handle PCBs up to 1,490 x 550mm (58.7 x 21.6")—ideal for long LED panels or large industrial boards.
Quick-change feeder carts, auto board support setup, and expanded nozzle capacity, along with 120 feeder inputs and our Intelligent Feeder Anywhere position the NPM-W2 as an ideal solution for "Any Mix Any Volume".
Additionally, numerous placement and process head options, plus multiple component supply methods make the NPMP-W2 a versatile addition to any SMT manufacturing line.
The new, revolutionary Multi Recognition Camera uniquely combines three separate imaging capabilities into a single system: 2D alignment, component thickness inspection, and 3D coplanarity measurement.
The field upgradeable system eliminates any configuration challenges historically associated with competitive vision systems, which often resulted in excessive investments, improper configurations, inadequate capabilities, and even reduced quality. Versatile for today's technology, and powerful for future inspection challenges, the Multi Recognition Camera helps manufacturers build higher quality products.
As always, manufacturers can scale NPM production lines to meet production needs while conserving investments until production or technology requirements mandate. OEMs and EMS providers can reconfigure the machine heads in approximately 15 minutes—maximizing flexibility, minimizing ROI, and protecting assets.
The NPM-W2 also incorporates existing feeders, carts, and nozzles to minimize investment and inventory expenses.
Other members of the NPM line include the NPM-D3 process solution and the twin tray NPM-TT2.
Features & Benefits
Plus new enhancements:
Board handling up to 1,490 x 550mm (58.1 x 21.6")
Quick-change feeder carts and nozzle banks
Compatible with CM & AM series intelligent feeders & nozzles
Board warp detection, Advanced Process Control (APC), and Auto Board Support Pin
Industry's first 3D Multi Recognition Camera
Lightweight 16-nozzle head (for 77,000 CPH)
Increased placement accuracy to 25um (cpk ≥ 1.0)

Keywords:

Panasonic NPM-TT2 Pick and place machine, Panasonic NPM-D3 pick and place machine, Panasonic NPM-W2 pick and place machine, Panasonic NPM WX Pick and place machine, Panasonic pick and palce machine, Panasonic Inserter, Panasonic Printer, Panasonic Assembly Line, SMT Equipment, PANASONIC Feeder, PANASONIC Nozzle, Panasonic Spare parts, Panasonic AI Spare parts.